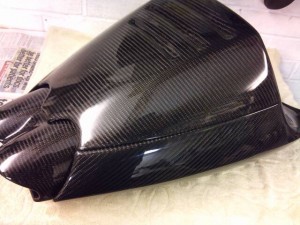 C6 Carbon are specialists in working with carbon fibre.  Whether it's carbon fibre skinning, laminating or wrapping we have the skills and experience to get the finish you want.
Bespoke Carbon Wrapping
We use real pure carbon fibre on OEM parts with the experience and knowledge to ensure that any parts we work fit guaranteed. Just send us a picture of the part or parts you wish to be wrapped and we can then give you a quote of the work involved. We have experience of carbon fibre wrapping  interior, exterior and engine bay parts for cars and motorbikes.
UV Damaged Carbon Fibre Parts
We can also renovate or repair pure carbon parts after degradation from long exposure to sunlight when a non UV resistant product has been used. We can  give a non UV resistant piece a high gloss UV protective coating as most parts formed in a vacuum are not UV resistant.
Repairing Carbon Fibre Parts
On occasions we can also repair some breaks in carbon fibre parts. To ensure that our work is of the highest quality and to your specifications please note that all the repair and renovation services require detailed pictures of the parts that require attention for a quote.
Coloured Carbon Fibre
For extra detail we can incorporate different colours by adding a coloured polyester yarn to the weave; the colours available are red, blue, green, all silver, a carbon (black) and kevlar (light yellow) mix, pure kevlar (light yellow) and 2 x 2 twill.